It's day EIGHT of 31 Days of Halloween and as promised here are 31 Awesome DIY Halloween Wreaths. If you missed day one's post, click here.
One of the most important areas to decorate when it comes to Halloween is your front entrance. This is the area people will see the most because this is where the kids will come to Trick-or-Treat you. Here are 31 Awesome DIY Halloween Wreath ideas to help you turn your front door into the most visited on your street this Halloween.
Looking for some DIY inspiration, check out these 31 awesome DIY Halloween wreaths. #31daysofhalloween
Click To Tweet
Below you will find 31 inspirational wreath or door hanger ideas (thanks to Pinterest) to help you create your own spooky Halloween wreath for your front door this year.
HOCUS POCUS HALLOWEEN WREATH
WITCH HALLOWEEN WREATH
POOL NOODLE HALLOWEEN WREATH
PUMPKIN MAN HALLOWEEN WREATH

PIRATES HALLOWEEN WREATH

SCARECROW HALLOWEEN WREATH
WITCH HALLOWEEN WREATH
SPIDER HALLOWEEN WREATH

CANDY CORN HALLOWEEN WREATH

STEAMPUNK HALLOWEEN WREATH

TWIG HALLOWEEN WREATH

HALLOWEEN RAG WREATH
SPIDER HALLOWEEN WREATH

SKELETON HALLOWEEN WREATH

WITCH CLOTHESPIN HALLOWEEN WREATH

JACK SKELLINGTON HALLOWEEN WREATH

HALLOWEEN CAULDRON WREATH
WITCH DECO MESH HALLOWEEN WREATH

WITCHES BROOMSTICK HALLOWEEN DOOR HANGER
HALLOWEEN ORNAMENT WREATH
DOLLAR TREE – SKELETON HAND HALLOWEEN WREATH
MALEFICENT HALLOWEEN WREATH
HALLOWEEN FRAME DOOR HANGER
ZOMBIE HALLOWEEN WREATH
ARKHAM ASYLUM HALLOWEEN WREATH
GOTHIC HALLOWEEN WREATH
FREDDY KRUEGER HALLOWEEN WREATH
DOLLAR TREE – GOOGLY EYE HALLOWEEN WREATH
WITCHES HAT HALLOWEEN DOOR HANGER
JASON VOORHEES HALLOWEEN WREATH
SKELETON HALLOWEEN WREATH
I love having my girls over and making wreaths, we always have a great time. Living on a fixed income (frugal or not) it's just not easy to keep enough materials on hand to complete five or six wreaths every month so we only do these on special occasions. But making handmade decorations of any type saves you money. Plus you can guarantee that no one else on your block will have the same decorations. And doing DIY projects with the kids or grand-kids always makes it a bit more fun. But if I had my way we would make, making wreaths a monthly tradition in our house.
I sure hope these beautiful Halloween Wreaths inspired you, but if not check some you can just purchase.
Happy Halloween!
And that was today's 31 Days of Halloween post, I sure hope you enjoyed it. Be sure to come back tomorrow for a classic Delicious And Easy Pumpkin Bread recipe.
Comment below and let us know which of these 31 Awesome DIY Halloween Wreaths was your favorite.

31 Days of Halloween 2017
If you liked this article, please share it on social media!
This post may contain affiliate links, which means that I may earn a small commission if you make a purchase. Thank you so much for supporting my blog in this way. Please read our Disclosure Policy for more information.
PINIT:
This post will be partying at the following link parties!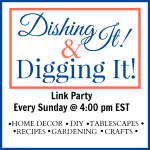 Save
The following two tabs change content below.
Hi I'm Pamela, the face behind Momma Knows It All. I am a mother of five (now grown) daughters, that makes me an empty nester and not always happy about it. Once upon a time my days we're filled with homework and chauffeuring kids back and forth between band practice, softball games, girl scouts, etc. Now it's filled with reading, gaming, crafting as well as blogging. And I LOVE to blog, even though I may not always be good at it. I enjoy helping others with issues that plague families everyday. I only hope that by sharing what I've learned throughout my journey that I'm helping someone out there on their own journey.